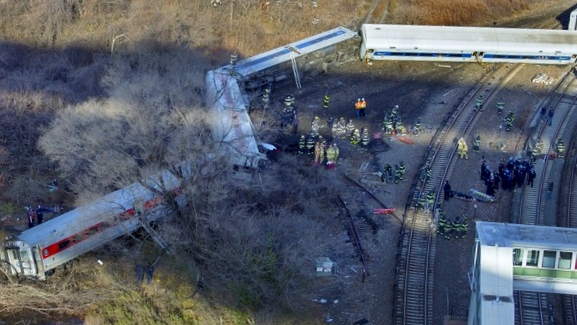 On Sunday, December 1, 2013 a Metro North commuter train traveling from Poughkeepsie to Grand Central Station in Manhattan derailed in the Bronx.  At least 4 persons were killed and are confirmed dead, with dozens of passengers seriously injured, several in critical conditions at local area hospitals.  This most recent derailment occurred near the very location of a previous derailment earlier this year; at a turn called "Spuyten Duyvil" (that's Dutch for "Spitting Devil").  It is apparent that such derailments are not purely accidental, and that negligence on the part of the Metro North, its employees, including the engineer operating the train, as well as the MTA (parent company of MetroNorth), are responsible.  However, suing MetroNorth requires knowledge of certain legal procedures (such as a Notice of Claim), which act as a mandatory required condition precedent prior to filing suit.  If a Notice has not been correctly filed, a lawsuit can be dismissed, leaving the injured victim without recourse to recover financial damages for pain and suffering, lost wages and medical bills.  Furthermore, even where a Notice of Claim has been timely filed, the normal Statute of Limitation of 3 years, commonly applied to negligence claims in New York, is shortened to merely one (1) year.
Thus, the team of attorneys at Omrani & Taub, P.C., who have vast experience successfully suing the MTA and Metro North, should be consulted by anyone wishing to sue the MTA, MetroNorth or any of its employees, due to injuries sustained in train, subway, or bus accidents. The Law Offices of Omrani & Taub are following this developing story closely and gathering detailed information should anyone need to file suit against MetroNorth. You can reach an experienced train derailment attorney at (212) 529-7848, that's 212-LAWSUIT.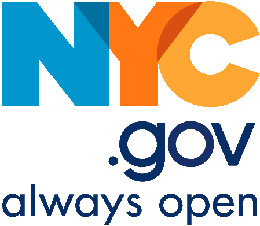 Pedestrian accidents are common in our city. One only has to scan the news headlines on any given week to see people suffering serious injuries or even death following such accidents. There are several programs in place that seek to reduce incidents like these. Promoted by the NYC Department of Transportation, "Safe Routes to School," "Safe Streets for Seniors", and "Safe Routes to Transit" are all targeted at preventing certain pedestrian tragedies.
Safe Routes to School is a nationwide program that seeks to help children make it to school and their bus stops with minimal risk of accidents. In NYC, the program examined accident histories surrounding the city's nearly 1,500 elementary and middle schools and targeted 135 high priority schools to be considered for improvements. Continue reading →

The National Transportation and Safety Board (NTSB) has spoken out on the latest advancements in automobile safety, and made a recommendation that these high-tech tools be mandated in all new vehicles.
According to the Associated Press, there are many specific safety features that the NTSB could employ to significantly increase road safety and decrease the number of auto accidents. Those safety technologies include:
Lane-departure warning that tells drivers when the car is going into another lane without signaling.
Forward collision warning that can alert or apply brakes when an accident is imminent
Adaptive cruise control that automatically adjusts speed depending on traffic conditions
Electronic stability control which automatically applies brakes to individual wheels
Some cars already have these features installed, namely, the more expensive models. But, the NTSB says safety shouldn't be something for only the wealthiest of us. Continue reading →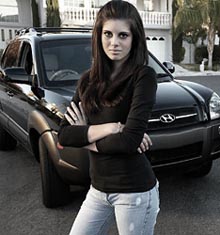 For many teenagers, texting while driving is not as dangerous as people make it out to be. This is according to a new survey from State Farm Insurance. The insurance giant found that most teens believe texting is less risky than drinking and driving, though research shows it could be even more dangerous.
According to a press release from the company, 36 percent of teens between 14 and 17 years of age strongly agree they could be killed one day if they regularly text and drive while 55 percent believe drinking and driving could lead to a fatal accident. Sixty-three percent believe they could get into an accident from texting and driving, while 78 percent believe they could get into an accident if they are drinking and driving.
The survey was administered by Harris Interactive in July and asked the questions of nearly 700 teens.
Perhaps not surprisingly, those teens who already text and drive don't see it as dangerous as those who refrain from the practice. Among those who abstain, 73 percent believe texting and driving could lead to an accident, while only 52 percent of those who actually text and drive believe they could be in an accident. Continue reading →

When you take an evening walk or walk to the store, you likely don't think that you'll be the victim of a car accident, and you certainly don't think it will be the last walk you take. But, one woman in upstate New York took her final walk last week on her way from the store.
According to the Associated Press, 35-year old Tabitha Harris was walking home from the store in Manchester when she became the victim of an unusual accident. Ms. Harris was not hit randomly by a lone car, but was the victim of a two-vehicle accident. She happened to be in the wrong place at the wrong time.
A van traveling on the road crossed the center line and struck an SUV pulling a trailer. The SUV lost control, and the trailer they were pulling hit Harris.
The van driver was ticketed for failing to keep right and the investigation is ongoing. Continue reading →

Five young girls were all hospitalized following a frightening accident that happened as they played outside. According to the Nyack-Piermont Patch, the girls were playing in the driveway of their home when a van owned by Five Star Medical Supplies jumped the curb and hit all five of them. All five were transported to area hospitals.
Three of the five girls are related, two are sisters and the third is a cousin. Four of them are nine years old and one is seven. A few were seriously injured.
Christopher St. Lawrence, the Ramapo Town Supervisor, and Police Chief Peter Brower credit one paramedic with saving at least one of the girls' life. When arriving on the scene, she did not have a pulse and was not breathing. Paramedic Jacob Goldmunzer provided care to all five girls at the scene. Workers had all of them loaded on ambulances and being transported within only 10 minutes of their arrival.
Officials are calling Goldmunzer's actions heroic. Continue reading →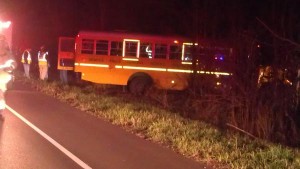 Thousands of people put their kids on school buses every morning, trusting that their children will arrive at school safely and be carried home again unharmed. But school bus accidents seem relatively common, and often end tragically.
Just this past week, a school bus in Montezuma upstate, was involved in a crash with two cars. Two people died as a result.
According to News Channel 9 (local ABC News channel), the bus and another car were traveling south on State Road 90 when a car traveling in the opposite direction crossed the center line. That car hit the driver's side of the bus and struck the other car head on.
One person from each car was killed. Two people were airlifted to Upstate University Hospital and one student was taken to Geneva Hospital with minor injuries. Continue reading →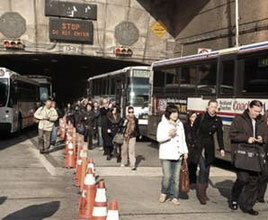 The Lincoln Tunnel was closed for several hours Monday morning after two buses collided, sending several passengers to area hospitals. According to the Pocono Record, a Martz Trailways bus rear-ended a New Jersey Transit bus near the tunnel entrance.
The crash happened at about 7:15 am and the tunnel was not reopened until about 10:30, seriously delaying some commuters. Fortunately, the sustained injuries in the bus accident were not life-threatening.
Both buses had to be towed from the scene. The Martz bus had originated in Tobyhanna at 5:15 and stopped in Mount Pocono to pick up more passengers before the accident. The NJ Transit bus was a Route 168 bus from Paramus to the Port Authority station in NYC. That bus had 45 passengers on board, while the number aboard the Martz bus was unknown.
Two passengers were seriously injured and three were taken out of the buses, strapped to backboards. Continue reading →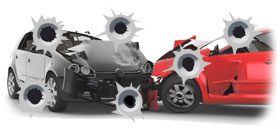 A blog post on Streets Blog indicates that New York City officials are focusing too much on gun violence, when auto accidents cause many more deaths and injuries each year. The columnist, Brad Aaron, suggests that officials should rethink their approach in keeping New Yorkers alive, focusing on preventable accidents instead.
The post was spurred by an announcement of 16 people being indicted in illegal gun trafficking. A statement from the city remarked that there had been 127 shootings in Manhattan this year thus far. Nineteen of which resulted in fatalities.
But, counters Aaron, last year 26 pedestrians and cyclists were killed in the city and more than 2,500 were injured. With a higher fatality rate, he says, the city should be focusing here to make NYC a safer place for everyone.
Through August of this year, someone died in New York City traffic about every 30 hours, on average, and an injury occurred every 14 seconds. There is no concerted effort between city prosecutors and NYPD to get those numbers down, or to ensure that victims get justice. To the contrary, few crashes are even investigated. Continue reading →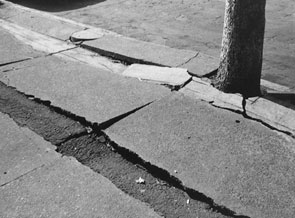 The City of New York knows that cracked or poorly maintained sidewalks are an accident waiting to happen. And they also know that they have a responsibility to maintain these pedestrian thoroughfares. But, how do they go about preventing these accidents and what more can be done?
According to the NYC Department of Transportation's homepage, there are 12,750 miles of sidewalks in the city. The DOT's goal is to make all of them safe for people walking around the city and to prevent injuries. To this end, they replace more than 2 million square feet of sidewalks each year.
Most of this replacement work is done on city property and in residential areas. But, some of this replacement work is done when property owners fail to step up to the plate themselves.
A sidewalk law passed in the past few years shifts some responsibility of sidewalk maintenance to property owners. Continue reading →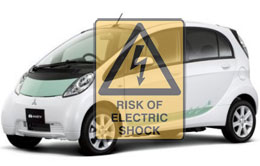 Investigators with the New York State Police received training last week on how to better handle accidents involving electric and hybrid vehicles, as their numbers are increasing. According to Earth Techling, these vehicles offer unique circumstances when involved in accidents, something that all first responders should be prepared for.
These vehicles have high voltage electric propulsion systems, systems that could deliver a serious shock if damaged or handled incorrectly when safety mechanisms have become disabled. The National Fire Protection Association began providing training to firefighters on the cars in 2011 but their training has recently been opened to various law enforcement agencies.
The more than 40 New York State Police investigators are expected to take what they learn and spread it to other officers throughout the state. Their training will include first-response safety issues as well as tools to aid in accident investigation. Continue reading →