If a New York company manufactures a defective product and then fails to report it to authorities after learning that the product is defective, they could be subject to federal sanctions and injured parties could seek compensation. Hewlett Packard, a major computer company, learned that some of its lithium-ion batteries were defective to the point where the batteries could cause injury.
In fact, a study by the company was completed in 2007, but it waited a year to notify the U.S. Consumer Product Safety Commission about the problems. According to the study, faulty batteries could overheat and cause a fire. They were sold with laptops, as separate accessories or as parts for those computers. Continue reading →

The company responsible for maintaining escalators at Giants Stadium settled with eight injured people last week over an escalator accident that occurred about four years ago. Schindler is only one defendant in the case involving serious injuries that occurred when an escalator sped up and quickly stopped, ultimately causing some serious injuries. The other defendant, the New Jersey Sports and Exposition Authority who operated the stadium at the time, has not settled and their case will continue.
On December 29, 2007, Giants Stadium hosted a game between the Giants and the New England Patriots. It was after the game, as people were leaving, that the escalator accident occurred.
Witnesses said the escalator sped up and stopped, causing people to "tumble" towards the bottom. One man, Michael Harris, whose leg was caught in the bottom of the escalator, underwent five surgeries and three years of treatment before he ultimately had his leg amputated below the knee. Joseph Capuano has had more than twelve surgeries and could still lose his foot.
The settlement came after a break in the trial, following opening statements with a retelling of the escalator accident. According to the Associated Press, the account was graphic and included photos of the injuries.
Often, when a defendant in a civil case realizes they will lose at trial, a settlement becomes more alluring. This may have been what happened in this case after the moving opening statements.
The amount of the settlement was not disclosed.
Schindler was accused of failing to maintain the escalators in a safe manner, from replacing a mechanical part to making regular inspections. The Sports Authority is charged with failing to limit the number of people allowed on the escalators at any one time.
The Sports Authority says it did not ignore warnings about overloading the escalator and said that other escalators were carrying the same numbers of people, and none of them malfunctioned.
The trial against the Sports Authority continues.
The plaintiffs in this case, or the people who were injured, merely want to be compensated for their injuries-including medical costs and the trauma associated with them. But it's obvious, four years after the accident, that cases like these can take a long time to resolve.
When you are at a public sporting event, you take it for granted that you will be safe. When something catastrophic happens, it can catch everyone off guard. If you have been hurt in an escalator accident call us today for a free consultation. The experienced New York Escalator Accident Lawyers at Omrani & Taub, P.C. can make sure you compensated for your losses and injuries as well as pain and suffering.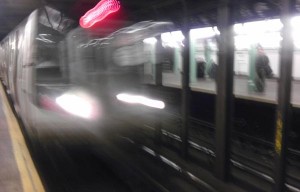 Thousands of people use the subway in New York on a daily basis. For most, their travel ends with them safely walking up the stairs from the bowels of the city to their final destination. Most people enter and exit the subway without even thinking twice about their safety after traveling through one of the nation's largest transit systems has become second nature.
For some, however their lives are changed when they walk below the streets. Within a single 24-hour span of time, four people lost their lives in a mass transit accident this past weekend. The four deaths all occurred on Saturday, Jan. 21, 2012. Continue reading →

A man who once owned his own construction business was forced to live on the streets and in shelters, according to this story out of Billings, Montana. Stephan Larsen, 52, has reportedly never dealt with such hard luck, a former home owner and business owner, he misses being able to work.
Though a divorce forced him to move his construction operation in the pursuit of business, it was an old injury from a forklift accident that eventually caused him to stop working. What was once an inconvenient back pain became unbearable in his age.
He ended up sleeping at a Rescue Mission where he had formerly worked and found employees. A friend there eventually helped him into a housing program. But his injury still plagued him.
Requiring both knee and back surgery, Larsen was finally able to collect disability and get medical care with government assistance. Now, about thirty years after his forklift accident, he is scheduled to get the first surgery.
"I don't want to be disabled," says Larsen. "After the surgery is all done, I want to go back to school. I have too much time on my hands sitting around the apartment."
Larsen's case is not an unusual one. Though construction/work site accidents rarely lead to homelessness, it is possible, and they often lead to financial hardships and even the inability to work.
When you are hurt on the job, you may initially be sent to the doctor and be told by your employer that everything will be taken care of. But many people are surprised when their supervisor or a worker's compensation representative starts urging them to finish treatment, basically to suck-it-up and get back to work.
Make no mistake, even if you enjoy your job and the people you work for, they are running a business, and the primary interest of any business is making, not spending money.
Being injured on the job can present unique frustrations as your job is the one who should be made to pay for any safety oversights or negligence. But it's you, as the patient and employee, that are often made to feel like the situation is your fault.
An experienced personal injury attorney from Omrani & Taub, P.C., can help. We are dedicated to seeking justice for our clients. We know what you are going through as we've represented many clients in similar situations.
If you've been hurt on the job, you can't wait 30 years to seek relief. By then, it may be too late.

Canadian bicyclist and artist Mathieu Lefevre was killed by a crane truck about three months ago, and his family is highly critical of the NYPD, who took all three months to hand over the police records of the accident.
Only after filing a lawsuit under the Freedom of Information Act did the Lefevre family receive the file which included 115 pages and four videos, including the initial bicycle accident report.
Lefevre was riding his bicycle in Brooklyn when he was killed. The large crane truck was on his left at a corner, and the driver admittedly failed to signal a right turn. When Lefevre went to pass the truck on its right, he was hit, causing the fatal bicycle accident. Continue reading →

We have all heard the adage that "no news is good news." This is especially true when it comes to bus accidents. When we cannot write about the damages caused to victims of an accident where they were a passenger on a mass transit vehicle, it is a good thing. Passenger injuries can change the lives of victims in an instance.
It is sad to have to report another bus accident that occurred with passengers en route to New York City. The bus was operated by Trans-Bridge and was carrying four passengers on Monday morning, Jan. 16, 2012 whose lives were about to change. Continue reading →

A criminal investigation has been launched by the Manhattan District Attorney in the tragic elevator death of an advertising executive at Y&R. Suzanne Hart was killed when the elevator at Y&R's Madison Avenue headquarters crushed her between the first and second floors on December 14.
Initial reports said there were no "safety issues" when the elevator was last inspected in June, 2011. But Tony Sclafani, a spokesperson for the Department of Buildings, said that there were many violations issued in the past but all were for "administrative or non-hazardous conditions." In the aftermath, 11 violations were written against the building's 13 elevators.
According to the New York Post, the only violation written against the elevator that killed Ms. Hart, was one regarding problems with paperwork. Other, "more serious" issues were found on the 25-story building's other elevators. Continue reading →

Parents in New York and across the country are naturally concerned with safety issues that relate to their school children. It is always terrible when a school child is injured or dies during some school activity. Great shock and disbelief were the first reactions by students, teachers and parents in East Hartford, Connecticut, to recent news of a student drowning in their high school pool.
Legal responsibility issues for cases like this student drowning are addressed under laws of premises liability. When a child is in an environment where parents assume they are safe, such as a school, parents rightly expect that all reasonable precautions have been taken at that facility to assure child safety. The death of a young person is tragic and unexpected, and grief over that tragedy can affect an entire community. Continue reading →

A pharmaceutical company has become concerned about potential product liability that may result from the mix-up of several of its prescription pain pills and over-the counter medicines. This story is worth paying attention to because the underlying facts could affect the healths of New York residents.
Novartis, the Swiss pharmaceutical company, operates a drug manufacturing plant in Nebraska. That plant was shut down last week as a result of numerous complaints that mistakes had been made with respect to several of the products made at the facility. Continue reading →

Residents in New York and across the country are familiar with the feeling that there is a Starbucks around every corner. That feeling is not too far off from the truth with the thousands of coffee shop locations operated under the name across the country.
The very profitable coffee mega-giant is going to have to pay out some mega bucks after a jury awarded a chiropractor $7.5 million in a slip-and-fall lawsuit. Continue reading →

We have been following the story of the Dec. 14 elevator accident that took the life of a New York woman. The woman had stepped onto the elevator at the exact moment in which it spontaneously began to rise, trapping the woman between the bottom of the elevator and the ceiling of the floor above.
The premises liability tragedy has affected many more people than just the woman and her family. We often forget that accidents such as these generally do not occur in isolation. There are more often than not many witnesses to these events, especially in New York City. Continue reading →