In a recent criminal trial, a 60-year-old Megabus driver was acquitted of criminally negligent homicide charges stemming from a 2010 New York bus accident that resulted in the deaths of four passengers.
Though he is not being held criminally responsible for these wrongful deaths, family members of the deceased victims have already filed civil lawsuits against the bus company, the bus driver and others who may have contributed to the fatal bus accident. Those lawsuits were delayed pending the outcome of the criminal trial. Continue reading →

Last August, 32-year old homeless man, Jason Farnham was struck by a BMW while walking. That BMW was driven by Dr. Frank Vogel, 66, of Franklin Square. Just this week, Vogel pled guilty to driving drunk in the accident and is expected to be sentenced in upcoming days.
Farnham was initially listed in critical condition, according to Syracuse.com. He is still recovering from his injuries at The Centers at St. Camillus.
The younger man was walking on the night of August 21, 2011 on the west side of the Onondaga Lake Parkway, on or near the shoulder of the road. Vogel was driving southbound when the drunk driving accident occurred.
In his plea, Dr. Vogel admitted to being intoxicated with a blood alcohol level of at least .18, more than twice the legal limit. But according to the prosecution in the case, his blood alcohol level was more like .20.
The fact that Vogel stopped his vehicle and rendered assistance to Farnham while waiting for emergency personnel likely affected the plea agreement. According to the agreement, Vogel will serve five years' probation with the first six months being served in the Onondaga County Correctional Facility. Continue reading →

New York City is among one of the dangerous places for pedestrians. Needless to say, many drivers on New York streets are in a rush to get where they are going. Operators of mass transit vehicles are no different. Either from a lack of attentiveness, or because of the tediousness of driving the same pattern for long stretches of time, they can end up mindlessly ignoring pedestrians who are crossing the streets in crosswalks. When this happens it is most likely that the pedestrian will suffer serious personal injuries, some of which are fatal.
Two New Yorkers were struck down by New York City buses this week within a 24-hour period. The first victim was a 22-year-old who was killed by a Q44 bus while crossing a very dangerous intersection in Flushing. This accident happened shortly after eight in the morning. Continue reading →

A few high profile cases over the past year, especially that of cyclist Mathieu Lefevre, have brought significant attention to the NYPD's treatment of bicycle and pedestrian accidents. So much so that the City Council held a meeting on the department's lackadaisical attitude towards such accidents and how they are investigated.
According to the Village Voice, much of the frustration is due to the police department's reluctance to charge drivers criminally after being involved in such accidents. Though they may receive a ticket for failing to signal or running a red light, it's rare that they face charges of reckless endangerment or assault with a vehicle, even after the accident victim has suffered extensive injuries or even died.
The department assured the council that everything is being handled according to protocol, citing a 33% decrease in traffic fatalities overall in the past ten years. Continue reading →

New York construction sites are getting safer it seems, according to Mayor Michael Bloomberg and Buildings Commissioner Robert LiMandri. There was an 18% decrease in construction accidents last year in the city. Compared with 157 construction accidents in 2010, there were only 128 in 2011. Officials are crediting new laws that have been implemented over the past several years.
Among those new laws are revised city construction codes, which took effect in 2009. Those codes had not been revised in 40 years and were understandably in need of updating.
Construction accident injuries also fell, from 165 in 2010, to 152 last year, a drop of 7.8%. Oddly enough, however, fatalities increased by one, with 5 construction-related deaths last year and only 4 in 2010.
Of all construction accidents, falling is still the most common, but even construction falls declined last year by 21%, from 66 in 2010 to 52 in 2011.
More than 25 construction safety laws have been passed since 2008, affecting construction sites within the city. According to Occupational Health & Safety, many of these laws had a role in reducing the number of construction accidents. Continue reading →

Manufacturers of dangerous or defective products are responsible for the injuries caused when the product malfunctions. Such injuries include those caused by a fire or a chemical explosion.
Electric cigarettes are plastic imitation cigarettes, designed to generate a nicotine mist when inhaled, much like a real cigarette. These devices are widely used among as many as 2.5 million Americans in New York City and around the country. Continue reading →

In March 2008, a crane accident killed seven people and injured several others on East 51st Street. Several lawsuits resulted, the first of which was settled a few weeks ago. Though the specifics are not yet being released, a judge has ordered that the details be made public to help settle the remaining cases.
Seven people were killed in the crane accident-six construction workers on the site and a tourist. Twenty-four were injured and 18 homes were evacuated, when the crane released a six-ton steel collar. The collar came loose when a support strap snapped, according to the NY Daily News. When the collar fell from the crane, it flattened a brownstone, causing local evacuations and a significant number of injuries.
This crane accident shows just how dangerous construction sites can be and why the highest in safety standards must be adhered to. Continue reading →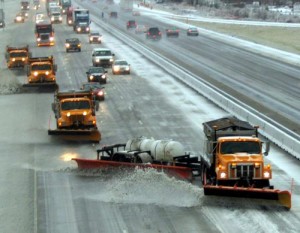 A Schenectady man was caught completely off guard this month when he was informed that the state wouldn't be paying to fix his car after a DOT snow plow hit him and caused damage. The reason is a little-known law in New York, which makes plow drivers immune from legal responsibility in such auto accidents.
Frank Palumbo was driving his 1993 Ford Taurus after a snow storm. He saw the DOT plow clearing the road on the right and decided to safely pass the plow on the left. But, as he passed the plow, the truck crossed the center lane, hitting Palumbo's Taurus. Though Palumbo stopped his vehicle, as you should when involved in an auto accident, the plow driver kept going, not realizing that he had just hit the Taurus. Continue reading →

He spent about 5 months in the hospital. And when he came out, it wasn't to a "welcome home" party; it was to an arraignment.
Forty-three year old James E. Anderson was involved in a serious head-on collision on September 11, 2011, an accident that landed two other people in the hospital as well. He was found at fault after it was discovered that he was legally intoxicated. Now he faces criminal charges in addition to any civil liabilities filed by a New York car accident attorney representing the injured parties.
Anderson, of New York City, was driving on the Bear Mountain State Parkway early on that September morning. At about 1 a.m., according to The Daily Cortlandt, he crossed the center line and drove into oncoming traffic. Continue reading →

Sometimes, it takes a serious accident that could expose property owners to the reality of premises liability before they realize the potential dangers posed on their property.
Last month a billboard fell onto the Brooklyn-Queens Expressway and into traffic lanes. The billboard was a giant Mega Millions Lottery sign. The day it flew onto the elevated portion of the BQE there were 40 m.p.h. winds. Continue reading →

The mother of a teenage boy who was struck and killed by a school bus can breathe a little easier now that she has settled a wrongful death lawsuit she brought against the largest bus company in the nation. That lawsuit was reportedly settled for $5 million.
The bus accident occurred in November of 2010. The 23-year-old school bus driver reportedly did not take necessary safety precautions, including inspecting the bus before driving. The school bus's windows were covered with frost and she had little to no visibility from the inside of the bus to see her surroundings, making the situation very dangerous. Continue reading →

In New York City and throughout the country, construction sites are known to be very dangerous. There are many inherent dangers in and around construction sites that contribute to the risks that employees take each day when they step onto a worksite. As a result, it is extremely important for contractors to abide by all safety measures. When people ignore safety procedures or warnings that premises are dangerous, everyone on the worksite might at risk of suffering catastrophic injury.
Such was the recent tragedy that occurred on a construction site. There, the contractor was on notice that the premises were dangerous. Inspectors actually issued a stop-work order until the dangers could be rectified. Specifically, a 12-foot deep hole that had been dug was in danger of collapse when city officials inspected the construction project. The inspector demanded that the hole be made secure before anyone entered the trench. Otherwise, individuals would risk serious injury or even death from a collapse. Continue reading →