2010 Staten Island Ferry Accident Blamed on "Malfunction"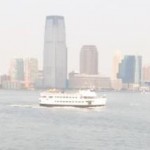 The National Transportation Safety Board released the findings of their investigation into the crash of a ferry in Staten Island two years ago. The crash didn't prove fatal, but injured 50 people, three of them seriously.
According to CNN, the NTSB found the accident was caused by the malfunctioning solenoid, a part in the propulsion unit. This malfunction made one of the propellers unresponsive to the commands of the ferry's pilot.
Unfortunately, the malfunction wasn't recognized until seconds before the crash, when it was too late to take evasive action, making the crash "unavoidable."
"The pilothouse crewmembers were unaware of the loss of propulsion control until seconds before the accident," said the report from the NTSB, removing any blame for the accident from the crew.
This wasn't the first ferry accident for the boat known as the Andrew Barberi. In 2003 it was involved in another crash. This time it hit a pier in Manhattan, killing 11 people and injuring 70.
Since that earlier accident, safety improvements have been made, both on this ferry and within the ferry system in general. Emergency response, in particular, was praised by the NTSB in their latest investigation.
Some ferries have alarms for when equipment malfunctions, like the solenoid. However, such alarms were not required and were therefore not installed in the Barberi. An alarm like this would have warned the crew of the problem well in advance so the accident could have possibly been avoided.
The Andrew Barberi has since been repaired and is back in service, doing its part to transport 65,000 people between Staten Island and Manhattan every single day.
With so many people riding the five ferries in service on this route, it's a wonder more accidents don't occur. Surely, there are strict safety regulations in place to ensure those who ride the ferries are as safe as possible on every single voyage.
But, mass transit accidents like this one do happen. And the injuries that occur as a result can be quite serious. If you have ever been involved in a ferry accident, you know how such a crash can jostle you and even potentially change your life.
When you ride the ferry, or even the bus, you expect that you will be delivered to your destination in the same condition you boarded in. You don't expect to be hurt. When an accident happens, and you are left with injuries, medical bills, and the stress of missing work, it can be stressful to say the least.
The attorneys with Omrani & Taub are accustomed to helping people who are in similar situations, injured in accidents that were beyond their control, working to get their clients compensated for their injures and pain and suffering.