Outrage Over Carriage Horse, Motorcycle and SUV Accident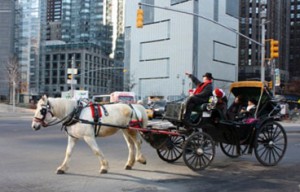 An accident last week has animal right's activists calling again for the end of the NYC carriage horse industry, an industry they say isn't safe for the animals. This particular accident involved a motorcycle, SUV, and carriage horse. Though all of the people in the accident escaped injury-free, the horse had lacerations to the face.
Activists have reportedly been pushing to end the use of horses on city streets for years. This latest accident only adds fuel to their fire.
"This is going to happen over and over again; we know that," said Edita Birnkrant, the New York director of Friends of Animals. "I want to challenge Mayor Bloomberg right now. How can you continue to justify this?"
It isn't clear how this particular accident happened, though photos from DNAinfo.com show a motorcycle laying on its side in the street. An SUV was also reportedly involved. No person was injured and the horse will undergo a veterinary examination before determining the extent of his injuries.
New York's carriage horses are a staple of the city. The sounds of their hooves moving through the park are nostalgic for many people. But are they a danger to themselves and others?
"There are accidents involving everything that moves and breathes in New York City," said Eva Hughes, vice president of the Horse and Carriage Association of New York, in response to activists. She "cautioned against using Thursday's accident as a symbol of a larger safety problem among" the city's carriage horses.
Hughes is right—if it moves (and sometimes even when it doesn't), and it's in New York City, it will be involved in an accident.
Car accidents, pedestrian accidents, bicycle accidents, and yes, even carriage accidents are common in this city of millions. Partially due to the population density, accidents happen on a daily and even hourly basis. Fortunately, the majority of these accidents end with all parties walking away unharmed. However, that isn't always the case.
Injury accidents are also common. Whether you are hit by a car as you walk to work or if you are rear-ended while sitting at a red light—in a flash your whole life can change.
When you suffer serious injuries in an accident, you could be entitled to money for those injuries. You may qualify for compensation for your medical costs, pain and suffering, and ongoing treatment.