City Council Introduces Plan to Audit NYPD Crash Investigations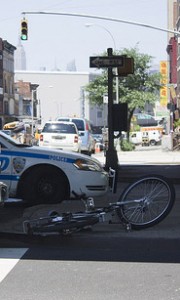 Members of New York City's City Council released the details of what they are calling the Crash Investigation Reform Act at a press conference this week. The purpose of the act is to improve the way in which the NYPD handles bicycle crash investigations among other things.
As reported by the Windsor Terrace Patch, currently, the NYPD only investigates bicycle accidents if the rider is killed or will likely die. Accidents resulting in scrapes, concussions, broken bones and worse, are not investigated unless the injuries are potentially fatal.
"Crashes that result in serious injuries demand serious investigations," said Councilman Brad Lander. "But right now, they just aren't getting them from the NYPD. As we learned at the City Council's February hearing, thousands of crashes with serious injuries to pedestrians and cyclists happen with no real investigations, and no changes. The Crash Investigation Reform Act would set up a comprehensive review of NYPD policies regarding traffic crash investigations, and get us on the road to safer streets."
In 2011, 21 cyclists were killed in crashes in the city. Only two drivers were arrested.
The consensus is that reckless drivers aren't being made to pay for their errors in the most serious of cases.
The ongoing point of contention between drivers and cyclists in the city seems to be one of finger-pointing. Bikers say cars don't give them any room to ride, that they are extremely unsafe when sharing the road. Drivers say the same things—that bikers have a sense of entitlement while riding in the streets. Regardless, fairness and adherence to the laws should be keeping things safer.
In addition to requiring accident investigations in even serious but nonfatal crashes, the Act proposed by the City Council would require the NYPD to boost the number of officers at each precinct who are able to investigate such crashes.
Currently, there are only 19 officers assigned to the Accident Investigation Squad in the entire city. The Act would require 5 such officers in each precinct.
A crash investigation can make a huge difference in who is held accountable for an accident. When you are injured and the accident wasn't your fault—even when criminal charges aren't relevant—you want to know that you can hold the other driver responsible through a personal injury claim. The accident investigation can play a major role in this claim.
When the cops don't conduct an investigation, your attorney's office can, ensuring there is a fact finding mission to establish who is at fault for the accident.
If you've been injured in an accident, the NYC personal injury attorneys of Omrani & Taub stand willing to help. You may be suffering from broken bones and an extended hospital stay—the last thing you need to worry about is haggling with insurance adjusters. Omrani & Taub can send an attorney to your hospital bedside to discuss your accident and begin working working on your claim.