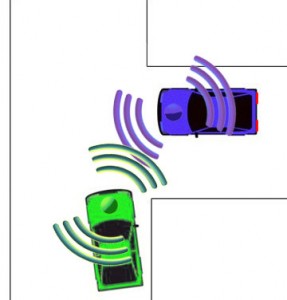 A new pilot program in Ann Arbor Michigan is testing the technology we often use to connect to the internet in order to prevent accidents. And so far, the results look promising. But will we all one day have WiFi accident prevention capabilities in our vehicles, or is this another case of futuristic technology that won't come to full fruition?
According to the NY Daily News, the Transportation Department is testing a system that uses WiFi to allow vehicles to communicate with one another. The cars send signals to one another, as does infrastructure like bridges and streets under construction. It's these communications that researchers hope will one day change how we prevent accidents.
"This cutting-edge technology offers real promise for improving both the safety and efficiency of our roads," said Transportation Secretary Ray LaHood. "That is a winning combination for drivers across America."
It works something like this: vehicles equipped with the technology emit and receive signals. They may warn the driver about a stalled vehicle ahead or someone coming around a blind corner. So far the vehicles used have been voluntarily supplied, and 90% of those drivers who tested the WiFi technology liked it and would like to use it on a regular basis.
"Vehicle-to-vehicle communication has the potential to be the ultimate game-changer in roadway safety — but we need to understand how to apply the technology in an effective way in the real world," said head of the National Highway Traffic Safety Administration David Strickland.
In addition to being a helpful voice in your vehicle, the technology will also gather information about usability and the prevention of auto accidents.
While testing is in its infancy stages and there are no discussions of the technology being rolled out on a larger scale, the program could lead to some pretty cool advances in new model cars of the future.