NY Accident Investigators Get Training on Electric Vehicle Accidents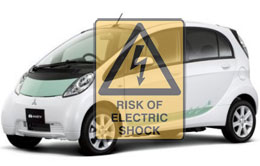 Investigators with the New York State Police received training last week on how to better handle accidents involving electric and hybrid vehicles, as their numbers are increasing. According to Earth Techling, these vehicles offer unique circumstances when involved in accidents, something that all first responders should be prepared for.
These vehicles have high voltage electric propulsion systems, systems that could deliver a serious shock if damaged or handled incorrectly when safety mechanisms have become disabled. The National Fire Protection Association began providing training to firefighters on the cars in 2011 but their training has recently been opened to various law enforcement agencies.
The more than 40 New York State Police investigators are expected to take what they learn and spread it to other officers throughout the state. Their training will include first-response safety issues as well as tools to aid in accident investigation.
"NFPA is supporting the large-scale introduction of electric vehicles by helping first responders become familiar with any new car that is coming down the road," said NFPA president James M. Shannon. "We are proud to tailor our successful Electric Vehicle Safety Training Project to fit the needs of those in law enforcement, specifically in the state of New York. Often times, police officers are the first to respond to the scene of an accident and NFPA's training will help protect officers and allow them to better protect the public."
A police officer's actions and their observations when arriving on an accident scene can change the outcome of the accident—from first aid to first impressions about how the accident occurred. Accident investigation tools, whether they are specific to hybrids or not, can help these investigations get to the root of what happened and how future similar accidents may be prevented.
It's an officer's investigation that is the starting point for many insurance and legal investigations. But these initial impressions, present on the police report, sometimes contain mistakes. When an officer doesn't make the correct notes or find accurate conclusions in their investigation, it can seriously impact your accident claim, particularly where there are injuries involved.
Officer training is important, but it certainly isn't the only factor when looking at how an accident or who caused it, for example. In cases where an injury claim is present, nearly every party will conduct their own investigation.