Editorial Suggests Auto Accidents Should be Just as Big of a Concern as Gun Violence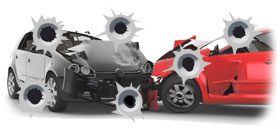 A blog post on Streets Blog indicates that New York City officials are focusing too much on gun violence, when auto accidents cause many more deaths and injuries each year. The columnist, Brad Aaron, suggests that officials should rethink their approach in keeping New Yorkers alive, focusing on preventable accidents instead.
The post was spurred by an announcement of 16 people being indicted in illegal gun trafficking. A statement from the city remarked that there had been 127 shootings in Manhattan this year thus far. Nineteen of which resulted in fatalities.
But, counters Aaron, last year 26 pedestrians and cyclists were killed in the city and more than 2,500 were injured. With a higher fatality rate, he says, the city should be focusing here to make NYC a safer place for everyone.
Through August of this year, someone died in New York City traffic about every 30 hours, on average, and an injury occurred every 14 seconds. There is no concerted effort between city prosecutors and NYPD to get those numbers down, or to ensure that victims get justice. To the contrary, few crashes are even investigated.
Criminal charges following a pedestrian, bicycle, or car accident are rare. Rather than looking to the criminal courts for justice, victims can look to civil proceedings. While advocates like Aaron say this simply isn't enough (and he might be right), personal injury and wrongful death claims do offer citizens one route to justice.
Vehicular violence will likely never get the same attention as gun violence. Gun violence is more dramatic and it plays upon the fear of the "bad guy". It's an interesting and possibly unfortunate irony, however, that reckless drivers are even more dangerous.
If you are hurt in an accident, often the only justice you'll find is within the civil courts. And you'll find this justice with the help of a personal injury attorney like those with the Law Offices of Omrani & Taub.
When you are injured in an accident—whether you were driving or walking—you deserve justice. You could be entitled to compensation for your injuries, your medical bills, your pain and suffering, and the time you have missed from work.