Upstate School Bus Accident Kills Two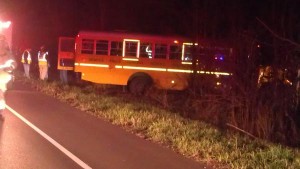 Thousands of people put their kids on school buses every morning, trusting that their children will arrive at school safely and be carried home again unharmed. But school bus accidents seem relatively common, and often end tragically.
Just this past week, a school bus in Montezuma upstate, was involved in a crash with two cars. Two people died as a result.
According to News Channel 9 (local ABC News channel), the bus and another car were traveling south on State Road 90 when a car traveling in the opposite direction crossed the center line. That car hit the driver's side of the bus and struck the other car head on.
One person from each car was killed. Two people were airlifted to Upstate University Hospital and one student was taken to Geneva Hospital with minor injuries.
There were 15 students on the bus and three adults. The bus was coming home from a wrestling meet in Port Byron when the accident happened.
It isn't clear why the car crossed the center lane, though the driver may have been distracted.
When accidents like this happen these days, distraction is often the first thought. A texting driver can easily cross the center lane with just a glance down at their phone. A two-word text can cause a horrific accident and cost several lives.
The investigation into this accident is ongoing.
When it comes to school buses or even mass transit buses, the potential for an injury when an accident occurs is great. The physics of how your body moves on a bus is markedly different than when you are in a car. So, the injuries may not be the same, but the risk is still present.
While a car involved in an accident with a bus will likely suffer the brunt of the damage, this doesn't mean the bus passengers will walk away injury-free. On the contrary, bus accident injuries can be quite serious even for those on the bus.
Whether your child was on a school bus or if you were commuting to work on a city bus, you shouldn't be held responsible when an accident happens. Instead, the driver or bus company should take some level of responsibility for your injuries.
The personal injury attorneys of Omrani & Taub help injured people who have been hurt in all types of vehicle accidents. We can help you. Contact our offices today to discuss your legal options at 212-529-7848.