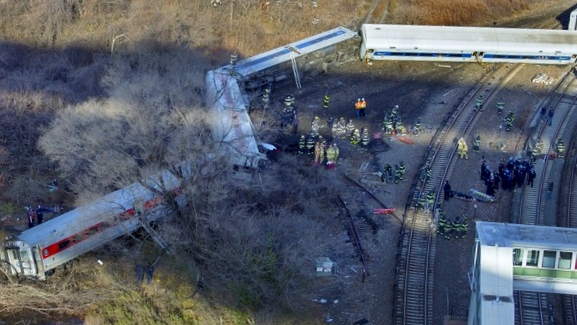 On Sunday, December 1, 2013 a Metro North commuter train traveling from Poughkeepsie to Grand Central Station in Manhattan derailed in the Bronx.  At least 4 persons were killed and are confirmed dead, with dozens of passengers seriously injured, several in critical conditions at local area hospitals.  This most recent derailment occurred near the very location of a previous derailment earlier this year; at a turn called "Spuyten Duyvil" (that's Dutch for "Spitting Devil").  It is apparent that such derailments are not purely accidental, and that negligence on the part of the Metro North, its employees, including the engineer operating the train, as well as the MTA (parent company of MetroNorth), are responsible.  However, suing MetroNorth requires knowledge of certain legal procedures (such as a Notice of Claim), which act as a mandatory required condition precedent prior to filing suit.  If a Notice has not been correctly filed, a lawsuit can be dismissed, leaving the injured victim without recourse to recover financial damages for pain and suffering, lost wages and medical bills.  Furthermore, even where a Notice of Claim has been timely filed, the normal Statute of Limitation of 3 years, commonly applied to negligence claims in New York, is shortened to merely one (1) year.
Thus, the team of attorneys at Omrani & Taub, P.C., who have vast experience successfully suing the MTA and Metro North, should be consulted by anyone wishing to sue the MTA, MetroNorth or any of its employees, due to injuries sustained in train, subway, or bus accidents. The Law Offices of Omrani & Taub are following this developing story closely and gathering detailed information should anyone need to file suit against MetroNorth. You can reach an experienced train derailment attorney at (212) 529-7848, that's 212-LAWSUIT.

Last week, construction workers were in the process of demolishing a 100-year-old warehouse when the building suddenly collapsed, burying three workers in a huge pile of concrete, bricks and steel. Although emergency responders were able to extricate all three from the rubble, the men suffered serious injuries, ultimately resulting in one worker's death.
According to police reports, the fatal construction accident occurred as the workers were demolishing the two-story warehouse as part of Columbia University's expansion. Although the exact cause of the incident is not yet known, a New York City spokesman says that it may have been triggered by the severing of a key structural beam earlier that morning. Continue reading →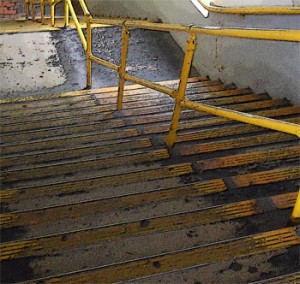 According to a recent study published in the journal Pediatrics, a child under the age of 5 is treated in a U.S. emergency room for a stair-related injury every six minutes.
The study reportedly found that more than 93,000 children were hurt on stairs every year between 1999 and 2008, with a total of 932,000 injuries to children under the age of 5 during that decade. Researchers believe that a variety of factors are responsible for the high number of injuries, including faulty stairway design and maintenance and lack of parental education.
In the study, researchers found that about 75 percent of children who were hurt on the stairs suffered head and neck injuries. About one-third of the total injuries were to the soft tissue, one-fourth were cuts, and one-fifth were closed-head injuries. The remaining harm was in the form of dislocations, fractures and similar injuries.
In sum, about 3 percent of the children injured on the stairs required hospitalization. The number of stair-related fatalities is unknown. Continue reading →

A New York driving school has had its operating license suspended after an undercover investigation reportedly found that the owners were using fraudulent methods to help students pass licensing tests. The owners of the school are also facing criminal fraud charges in connection with the alleged offenses.
The N & Y Professional Service Line School was recently linked to a fatal bus accident in which a low-fare bus traveling from North Carolina to New York crashed in Virginia, killing four people and injuring dozens more. The driver of the bus, who received his commercial driver's license from N & Y, later admitted that he had fallen asleep just before the crash. He is now facing manslaughter charges. Continue reading →

A 60-year old bus driver will soon learn his fate, after facing homicide charges for a bus accident he is alleged to have caused last September. The driver, John Tomaszewski, suffered serious injuries himself, as did several passengers, when he crashed a double decker bus into a low overpass, causing the bus to tip on its side. Though there's a good chance he will be found guilty, it isn't yet clear if the prosecutor is seeking jail time.
According to CP24.com, the accident may have happened when Tomaszewski made a wrong turn and was consulting a hand-held GPS device. As a result, four passengers on the bus were killed. He was ultimately charged with four counts of criminally negligent homicide and one count of failing to obey a traffic control device.
Since the bus accident, Tomaszewski has been living with family. He suffered a traumatic brain injury in the accident and is in need of surgery. He was released without bail pending the verdict as the judge didn't see him as a flight risk, and with good reason.
Although other passengers on the bus were injured, the status of any civil cases isn't clear. Continue reading →

In baseball, as in life, one wrong move can change the game. A slip-and-fall accident, a bus accident, or any other premises liability incident can leave one incapacitated and unable to fulfill their obligations. This could result in missed work, lost wages, and mounting medical bills.
For New York Yankees pitcher David Robertson, a recent fall down a flight of stairs at his home will keep him from the pitcher's mound for an undetermined amount of time. Robertson was carrying two empty boxes to the recycling bin when he fell down the stairs, resulting in a mid-foot sprain. This simple misstep will keep him off the field until a full recovery has been made. Foot injuries are difficult for anyone, but for a pitcher they are particularly serious because they have the potential to alter a throwing motion, which could cause arm and shoulder damage.
Although Robertson's injury took place at home, many common injuries happen while people are walking in grocery stores, restaurants and malls. People often feel responsible for their own injuries, but it's important to remember that property managers and employees have a responsibility to address potential hazards that could result in accidents for those walking through.
Most of us mere mortals don't have the pressure of performing for the New York Yankees weighing on us, but we also may not have the kind of resources, medical care, and support that Robertson has as the Yankees team physician and others work to get him back on the field. That's why it's so important to recognize that even a "simple" accident may warrant a lawsuit.
Receiving compensation for injuries may be necessary to cover lost wages due to missed work, and to receiving the necessary medical care for a full recovery. You may not be needed on the pitcher's mound, but chances are you're a valuable player who is needed in some area of the game of life.
Source: New York Post, "Clumsy accident offers little relief for New York Yankees," Kevin Kernan, March 9, 2012

In the coming weeks, New York City Mayor Michael Bloomberg will make a decision that could potentially increase the occurrence of construction accidents in New York City. Under a proposed new rule, construction workers could become licensed to operate giant tower cranes without any prior experience in New York City.
Under the current regulations, tower crane operators must operate cranes in the city as an apprentice for at least three years prior to being approved for a license. The proposed new rule eliminates that requirement, and simply states that crane operators must have two years of prior apprenticeship experience in any "urban area of comparable density." Continue reading →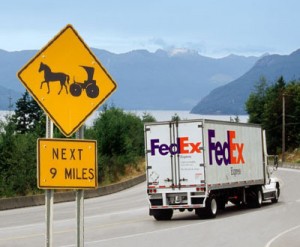 Near the Canadian border, in the far northern region of the state, it's not unusual to see Amish buggies. It appears one FedEx driver wasn't aware of this, however, striking a buggy from behind and seriously injuring the passengers.
According to the Washington Post, the accident happened in the town of Massena on Route 37. Two women and four children were riding in the buggy at the time. As you might expect, a few of them were serious injured simply because such buggies don't provide the safety of modern automobiles.
One of the mothers is being treated for a possible spinal injury, and two 3-year old children remain in critical condition. The other passengers were treated and released. The driver of the FedEx truck and his coworker passenger were not injured.
At the time of the Washington Post article, the accident was still under investigation. Nearly all rear-end accidents are deemed to be the fault of the accident that was in the rear, however, and it seems there are no indications that the buggy passengers played a role in causing the accident.
Despite how cut and dry an auto accident might seem, the police and insurance companies will each have to do their own investigations. Sometimes their findings don't jibe with one another, creating a conflict often sorted out by attorneys in a personal injury claim. Continue reading →

Transel Elevator, Inc., the company responsible for maintaining the elevators in the Manhattan office building where a young advertising executive was killed last December, has fired five of its elevator mechanics in connection with the accident. Transel announced the dismissals only two days after New York City investigators reported their finding that a crucial safety system (which could have prevented the elevator accident) had been disabled.
Our attorneys have closely followed this story since it occurred (see previous posts created in January and February) and are not surprised by these latest developments. Employers often fire employees after a serious or fatal accident for various reasons, sometimes justifiably and sometimes not. What Transel's decision to fire these mechanics will not do, however, is relieve the company of legal responsibility for employee actions occurring within the scope of employment. Continue reading →

The blame for the elevator accident death of advertising executive Suzanne Hart rests with the maintenance company who had worked on the elevator just minutes before the tragic accident, according to the city's Department of Buildings and the Department of Investigations. As a result, the city has suspended the license of that company, Transel Elevator, and is seeking to have it revoked.
On the morning of December 14, 2011, repair workers finished their work on elevator nine at 285 Madison Avenue. They left the building at 9:55 a.m. At 9:56 a.m. Ms. Hart began to enter elevator nine and was pinned between floors when the elevator lurched upwards. She was pronounced dead at the scene.
According to the NY Times, the elevator repair workers made three mistakes, mistakes which ultimately caused the elevator accident and Hart's death:
They failed to re-enable a safety circuit after they had completed their work. This circuit had been bypassed for their maintenance work to be completed.
They did not call the Buildings Department for an inspection before putting the elevator back in service.
They failed to post notice that the elevator was being worked on.
Had the safety circuit been re-enabled, there is a good chance Ms. Hart wouldn't have lost her life in an elevator accident that morning. Continue reading →

On the one-year anniversary of the New York City bus crash that left 15 people dead and injured 18 others, the National Transportation Safety Board (NTSB) announced that it will meet on June 5 to determine the probable cause of the crash. Although the NTSB investigation into the bus accident is still in its final stages, early speculation about alcohol or drug use by the bus driver as a possible cause for the tragedy appears to have been without merit.
In addition to the driver's negative toxicology test results for drugs and alcohol, NTSB investigators have also found no mechanical problems that would have prevented the driver from safely operating the tour bus prior to or during the crash sequence. The list of potential causes board members will be evaluating at the June 5 meeting includes driver error, highway surface or design defects, non-mechanical vehicle factors and motor carrier oversight failures. Continue reading →

Sixteen people are facing charges after bilking the insurance industry out of hundreds of thousands of dollars. Their crime? Faking auto accidents to collect money for injuries. The group is facing a multitude of crimes and several years in prison for their alleged frauds.
The fraudulent activity is said to have begun in 2009, according to the Insurance Journal. It was then that the group of 16 began causing accidents or faking accidents to get paid. They would hit unsuspecting drivers or get in accidents with each other to take advantage of the No-Fault insurance coverage.
No-Fault insurance allows people involved in accidents to collect up to $50,000 for injuries. In addition, following an accident, injured parties can file lawsuits, something the suspected fraudsters did as well.
In some of the cases, the suspects rented U-Haul trucks and crashed them into livery cabs. They would have one of their codefendants hail the cab and the other crash into them as they slowed. Another scheme they used was walking into vehicles or slapping the vehicle, claiming they were hit.
The sixteen are facing charges like insurance fraud, falsifying business records, grand larceny, and misdemeanor conspiracy. In all, they made off with over $400,000. Continue reading →