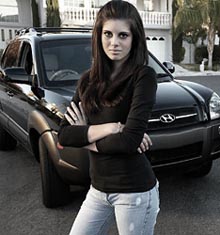 For many teenagers, texting while driving is not as dangerous as people make it out to be. This is according to a new survey from State Farm Insurance. The insurance giant found that most teens believe texting is less risky than drinking and driving, though research shows it could be even more dangerous.
According to a press release from the company, 36 percent of teens between 14 and 17 years of age strongly agree they could be killed one day if they regularly text and drive while 55 percent believe drinking and driving could lead to a fatal accident. Sixty-three percent believe they could get into an accident from texting and driving, while 78 percent believe they could get into an accident if they are drinking and driving.
The survey was administered by Harris Interactive in July and asked the questions of nearly 700 teens.
Perhaps not surprisingly, those teens who already text and drive don't see it as dangerous as those who refrain from the practice. Among those who abstain, 73 percent believe texting and driving could lead to an accident, while only 52 percent of those who actually text and drive believe they could be in an accident. Continue reading →