It's been several years since the crane repaired by Tibor Varganyi collapsed on Manhattan's Upper East Side, killing two workers. But he was finally sentenced this week to a year of community service, much to the outrage of the victims' family members. His boss, who he testified against, was acquitted, escaping all punishment.
The crane accident occurred in May 2008. Varganyi admitted to arranging repair on the crane that was more concerned about the bottom line than the ultimate safety. Authorities called the job a "penny pinching, shoddy" repair job.
Both Varganyi and his the crane owner James Lomma were charged with manslaughter. In a plea agreement, Varganyi escaped jail time by testifying against Lomma. Lomma, however, escaped punishment.
Both men admit the crane repair was done in an effort to save time and money, with little thought given to safety.
The 200 foot crane came toppling down just one month after the repair. Just two months prior another crane in Manhattan had collapsed, killing seven.
Cranes are dangerous simply because of their size. But when they are not maintained properly, they become an accident waiting to happen. Because of this, employers are required to adhere to strict standards when working with cranes and when repairing them.
According to OSHA, failure to inspect, improper usage, and poor maintenance can all increase the chances of a crane accident. Continue reading →

Last Friday, two construction workers were seriously injured when a gas tank exploded underneath High Line Park in the Meatpacking District. Just a few hours later, however, it was business as usual in the area as businesses remained open and citizens filled the park.
According to the NY Daily News, the workers were part of a crew removing a 6,000 pound gas tank from a former gas station. The explosion occurred at about 10:25 a.m. on the corner of W. 14th St. and 10th Ave.
Though there's no official word on what caused the accident, one source said the workers may have drilled into an old gasoline line. Both workers were sent to Bellevue Hospital for their injuries, but there were no updates on their conditions.
The area surrounding High Line Park is a chic shopping and arts district. Those who work and play here seemed nonchalant about the explosion. Continue reading →

James Lomma was acquitted last week by State Supreme Court Justice Daniel P. Conviser on charges including manslaughter for his alleged role in a deadly crane accident. Lomma is the owner of the crane that collapsed in 2008, killing two construction workers. Prosecutors alleged that he knowingly took a shortcut in getting the crane repaired, putting everyone at a substantial risk.
Though the judge did not expand on his reasons for the acquittal, Lomma's defense attorneys argued that repair work done on the crane was not to blame for the accident.
The accident happened as the crane began work on the 14th floor of what was going to be a 32-story building. As the crane lifted a load, "the top portions came off," hitting a building across the street before falling.
Crane operator Donald C. Leo was killed when the crane nearly decapitated him. Twenty-seven year old Ramadan Kurtaj was also killed. Continue reading →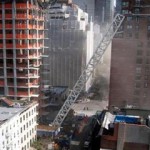 Last week one construction worker was killed and four others injured when a crane collapsed at a worksite in Manhattan. According to the NY Times, the crane boom split in two, sending debris raining down on workers. Work was immediately halted while the accident is being investigated by numerous agencies.
The accident occurred at a Manhattan Transit Authority site, where they are working to extend the number 7 train. Following the collapse, the MTA ordered immediate inspections on the cranes at all of their work sites.
Thirty-year old Michael Simermeyer of Lawrenceville, N.J. was killed when the crane came tumbling down. One other worker remains hospitalized. The depth of the worksite was said to make rescue efforts more difficult.
In a weird twist of irony, the crane was due for inspection just two days after the accident. The last date of inspection was January 10 of this year when the boom was in use and therefore wasn't inspected. Instead, at that time, only the control station below was looked at. Prior to that, the last full inspection was conducted in July 2011, where the entire crane was inspected and passed. Continue reading →

Last week, construction workers were in the process of demolishing a 100-year-old warehouse when the building suddenly collapsed, burying three workers in a huge pile of concrete, bricks and steel. Although emergency responders were able to extricate all three from the rubble, the men suffered serious injuries, ultimately resulting in one worker's death.
According to police reports, the fatal construction accident occurred as the workers were demolishing the two-story warehouse as part of Columbia University's expansion. Although the exact cause of the incident is not yet known, a New York City spokesman says that it may have been triggered by the severing of a key structural beam earlier that morning. Continue reading →

In the coming weeks, New York City Mayor Michael Bloomberg will make a decision that could potentially increase the occurrence of construction accidents in New York City. Under a proposed new rule, construction workers could become licensed to operate giant tower cranes without any prior experience in New York City.
Under the current regulations, tower crane operators must operate cranes in the city as an apprentice for at least three years prior to being approved for a license. The proposed new rule eliminates that requirement, and simply states that crane operators must have two years of prior apprenticeship experience in any "urban area of comparable density." Continue reading →

A 2009 construction accident killed a Long Island man and is just now coming to resolution in court. Two contractors on the accident site were charged criminally with the worker's death, and the family of the victim also has a lawsuit pending against the reportedly culpable companies.
Robert McGee, 59, a construction foreman from Bohemia L.I. was working at the site on Staten Island during heavy wind advisories. As he knelt on the second story floor, a wind gust brought down a 60 foot tall wall on him, crushing him.
The wall was said to be a known problem, as workers on the site had watched it sway in the wind for days prior. Knowing about the wind advisory, a colleague had called McGee before the collapse, warning him that it may be in his best interest to leave the site.
Anthony Malfi, owner of Well Built Development Corp. who erected the wall, and Michael Fazio of Woodrow Builders, LLC, both faced criminal charges in McGee's death, something rare but not unheard of. Both pleaded guilty to misdemeanors and will serve no jail time.
The family of McGee also has a lawsuit pending in state Supreme Court, claiming that Well Built did not follow the guidelines set for constructing a commercial office building and that Woodrow Builders did not have an inspector on site to ensure the construction was built according to regulations. Both companies are named in the lawsuit. Continue reading →

New York construction sites are getting safer it seems, according to Mayor Michael Bloomberg and Buildings Commissioner Robert LiMandri. There was an 18% decrease in construction accidents last year in the city. Compared with 157 construction accidents in 2010, there were only 128 in 2011. Officials are crediting new laws that have been implemented over the past several years.
Among those new laws are revised city construction codes, which took effect in 2009. Those codes had not been revised in 40 years and were understandably in need of updating.
Construction accident injuries also fell, from 165 in 2010, to 152 last year, a drop of 7.8%. Oddly enough, however, fatalities increased by one, with 5 construction-related deaths last year and only 4 in 2010.
Of all construction accidents, falling is still the most common, but even construction falls declined last year by 21%, from 66 in 2010 to 52 in 2011.
More than 25 construction safety laws have been passed since 2008, affecting construction sites within the city. According to Occupational Health & Safety, many of these laws had a role in reducing the number of construction accidents. Continue reading →

In March 2008, a crane accident killed seven people and injured several others on East 51st Street. Several lawsuits resulted, the first of which was settled a few weeks ago. Though the specifics are not yet being released, a judge has ordered that the details be made public to help settle the remaining cases.
Seven people were killed in the crane accident-six construction workers on the site and a tourist. Twenty-four were injured and 18 homes were evacuated, when the crane released a six-ton steel collar. The collar came loose when a support strap snapped, according to the NY Daily News. When the collar fell from the crane, it flattened a brownstone, causing local evacuations and a significant number of injuries.
This crane accident shows just how dangerous construction sites can be and why the highest in safety standards must be adhered to. Continue reading →

In New York City and throughout the country, construction sites are known to be very dangerous. There are many inherent dangers in and around construction sites that contribute to the risks that employees take each day when they step onto a worksite. As a result, it is extremely important for contractors to abide by all safety measures. When people ignore safety procedures or warnings that premises are dangerous, everyone on the worksite might at risk of suffering catastrophic injury.
Such was the recent tragedy that occurred on a construction site. There, the contractor was on notice that the premises were dangerous. Inspectors actually issued a stop-work order until the dangers could be rectified. Specifically, a 12-foot deep hole that had been dug was in danger of collapse when city officials inspected the construction project. The inspector demanded that the hole be made secure before anyone entered the trench. Otherwise, individuals would risk serious injury or even death from a collapse. Continue reading →

According to New York City data, the number of injuries experienced by workers in construction accidents has begun to decrease. From 2010 to 2011 there was a 7.8 percent decrease in the number of workplace accidents that resulted in at least one injury to an employee. The total number of accidents fell by approximately 18 percent last year.
New York City Mayor Michael Bloomberg cited the 2008 safety measures as the reason for the decline. "Even as construction activity rose by nearly 8 percent last year, the number of construction-related accidents fell," he said. Continue reading →