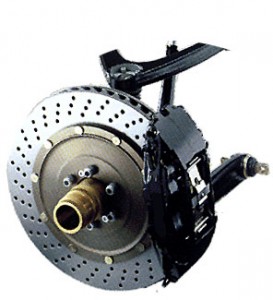 The Highway Loss Data Group (HLDG) released the findings of a study this week that says anti-lock breaking systems (ABS) can absolutely make motorcycles safer for the people who ride them. As reported on by the NY Daily News, the study says ABS bikes are particularly useful to beginner riders.
Not all motorcyclists are enthusiastic about ABS. Some say that riding without ABS helps you manage your bike better and prepare for malfunctions or accidents under any circumstances.
"If a beginner starts to rely on them and one day they malfunction, the beginner won't have developed the skills to compensate," says veteran rider Eduardo Rodriguez.
Still, the study shows a significant risk reduction. Continue reading →

A Brooklyn motorcyclist was on his way home Monday when he was hit by a fire truck rushing to the scene of a brush fire. The man, Reginald Brown, was killed in the accident.
Forty-six year old Brown was ironically stopping at home before he went to a friend's memorial service. That friend was killed in a  motorcycle crash one year ago in Brooklyn. Brown was to meet up with friends from his biker club to commemorate the anniversary of the death.
The fire truck was heading to a rubbish fire on Norstrand Avenue in Bedford-Stuyvesant when the accident occurred. The two collided on the corner of Monroe Avenue and Marcy Avenue at around 4 p.m.
"By the time he got to the intersection, the fire truck came through and hit him," said one witness to DNAinfo.com. "He went flying through the air and hit the glass of the beauty salon."
Brown was pronounced dead at Woohull Hospital. Continue reading →

Motorcycles, as a mode of transportation, have gained popularity in recent years in the U.S and especially in New York. However, there has also been a steady increase in motorcycle related accidents and injuries. The unfortunate reality is that there still seems to be a prejudice towards motorcycle riders when it comes to accidents and apportioning liability. Many "non-riders" upon hearing about a motorcycle accident will wrongfully assume it was the motorcyclist's fault because "those things are dangerous." Or that "the rider must have been reckless." These opinions are usually far from the truth. In fact, according to The Hurt Report [aka Motorcycle Accident Cause Factors and Identification of Countermeasures]:
• 75% of motorcycle accidents involve a collision with another vehicle and out of those accidents approximately 67% of the accidents were caused because the driver of the other vehicle violated the motorcycle's right-of-way.
• The failure of motorist to detect and recognize motorcycles in traffic is the predominating cause of motorcycle accidents.
• The most frequent accident configuration is the motorcycle proceeding straight then the automobile makes a left turn in front of the oncoming motorcycle.
• The median pre-crash speed of a motorcycle is 29.8 mph and the median crash speed was 21.5mph.
Besides the fact that a motorcycle rider is more often than not the innocent victim of an accident-he or she is often faced with unexpected medical bills which are not covered by their motorcycle insurance policy. These bills will have to be litigated along with the rider's claim for lost wages as well as any claim for pain and suffering.
If you believe that you were injured because of another driver's negligence you do have legal rights -even if you are not a licensed motorcycle operator, you should always contact an attorney to discuss your possible remedies at law.
When trying to find an attorney, always make sure the law firm has the proper experience and expertise and has handled many motorcycle accident cases, as these can easily become very complicated. In addition, look for an attorney who can successfully argue against the preconceived prejudices toward riders by educating jurors as well as insurance company representatives, about the facts surrounding motorcycle accidents. The personal injury attorneys at Omrani & Taub, P.C., have successfully handled numerous cases for motorcyclists. For a free consultation clients should contact the office at 212-714-1515 or 212-529-7848 (that's 212-LAW-SUIT).