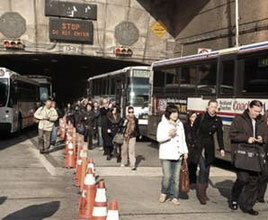 The Lincoln Tunnel was closed for several hours Monday morning after two buses collided, sending several passengers to area hospitals. According to the Pocono Record, a Martz Trailways bus rear-ended a New Jersey Transit bus near the tunnel entrance.
The crash happened at about 7:15 am and the tunnel was not reopened until about 10:30, seriously delaying some commuters. Fortunately, the sustained injuries in the bus accident were not life-threatening.
Both buses had to be towed from the scene. The Martz bus had originated in Tobyhanna at 5:15 and stopped in Mount Pocono to pick up more passengers before the accident. The NJ Transit bus was a Route 168 bus from Paramus to the Port Authority station in NYC. That bus had 45 passengers on board, while the number aboard the Martz bus was unknown.
Two passengers were seriously injured and three were taken out of the buses, strapped to backboards. Continue reading →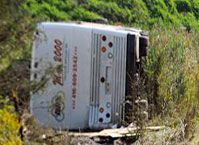 Another tour bus bound for New York City crashed over the weekend. This time, thankfully, no one was killed. But, the accident marks the latest of several in the area and leaves officials wondering what more can be done to protect bus travelers.
According to the Associated Press, the bus was en route from Canada to NYC when it overturned on an exit ramp in Northern New Jersey. After turning over, it slid down an embankment and came to rest on its side.
Twenty-three people on board were injured in the crash, including the driver who suffered a cut in his arm. Eight of the injured passengers were admitted in critical condition. Continue reading →

Just over a year after a casino tour bus accident killed 15 on its way back to Manhattan, another similar bus was involved in an accident. This time, fortunately, no one was killed, but two dozen people were sent to area hospitals with injuries.
According to the Associated Press, the bus was returning to Chinatown in Queens from a the Foxwoods Resort Casino in Connecticut when the accident happened.
The driver reportedly veered across three lanes of traffic and slid 500 feet along a barrier before coming to a rest. It happened on Northbound Interstate 95 in the early morning hours.
The driver was most seriously injured as he was ejected from the bus. No one had "serious" injuries but all passengers were taken to hospitals with minor injuries.
The bus line responsible for the bus is named Star Tag. Like the doomed bus in the tragic March 2011 accident, it mainly caters to Asian New Yorkers and runs frequent trips to casinos in surrounding states. However, unlike that other bus, Star Tag is not being shut down as a result of this accident though there's little doubt that an investigation will be launched. Continue reading →

Five children and two adults were injured early this week when a cab struck a school bus in the Briarwood neighborhood of Queens. According to MyFoxNY.com, the bus was carrying special needs children between the ages of 8 and 10.
All of the children were transported to Long Island Jewish Medical Center. The matron, also aboard the bus, and the cab driver were both taken to Jamaica Hospital. Their conditions are unknown.
Witnesses say that many of the children were highly distraught, as to be expected after an accident. Many parents arrived to offer comfort before the children were transported.
The matron appeared to have suffered the greatest injuries.
It isn't clear what caused the accident or if any charges will be filed. The police are still investigating. Continue reading →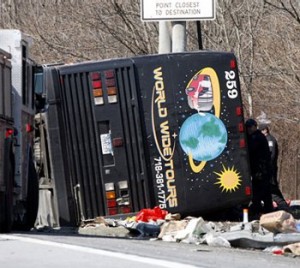 Federal inspectors are running roadside bus inspections to ensure passengers are kept safe this summer as travel picks up. The inspections come as a result of several recent bus accidents and glaring violations and questionable practices among these bus companies.
According to USA Today, the sweeps began earlier this month when the National Transportation Safety Board released their findings in an investigation into the deadly casino tour bus crash last year.
The inspections are designed to keep both unsafe buses and unsafe drivers off the roads. They are focusing on 13 states including New York and New Jersey as well as Maine, New Hampshire, Vermont, Pennsylvania, Delaware, Maryland, Virginia, West Virginia, and the District of Columbia.
These buses have become more and more popular in recent years as travelers look for more inexpensive modes of transportation.
The inspections focus on mechanical problems on the actual buses and on the drivers, checking to make sure their paperwork is up to date, they are working the right number of hours to remain safe, and that they are "medically fit." Continue reading →

A New York driving school has had its operating license suspended after an undercover investigation reportedly found that the owners were using fraudulent methods to help students pass licensing tests. The owners of the school are also facing criminal fraud charges in connection with the alleged offenses.
The N & Y Professional Service Line School was recently linked to a fatal bus accident in which a low-fare bus traveling from North Carolina to New York crashed in Virginia, killing four people and injuring dozens more. The driver of the bus, who received his commercial driver's license from N & Y, later admitted that he had fallen asleep just before the crash. He is now facing manslaughter charges. Continue reading →

A 60-year old bus driver will soon learn his fate, after facing homicide charges for a bus accident he is alleged to have caused last September. The driver, John Tomaszewski, suffered serious injuries himself, as did several passengers, when he crashed a double decker bus into a low overpass, causing the bus to tip on its side. Though there's a good chance he will be found guilty, it isn't yet clear if the prosecutor is seeking jail time.
According to CP24.com, the accident may have happened when Tomaszewski made a wrong turn and was consulting a hand-held GPS device. As a result, four passengers on the bus were killed. He was ultimately charged with four counts of criminally negligent homicide and one count of failing to obey a traffic control device.
Since the bus accident, Tomaszewski has been living with family. He suffered a traumatic brain injury in the accident and is in need of surgery. He was released without bail pending the verdict as the judge didn't see him as a flight risk, and with good reason.
Although other passengers on the bus were injured, the status of any civil cases isn't clear. Continue reading →

Bensonhurst was the scene of multiple auto accidents last week as an 80-year old man not only hit a school bus, but went on to hit a bicyclist and a Range Rover truck before coming to a stop. Tommy Saladino was taken to the hospital but is expected to be arrested and charged with leaving the scene of an accident.
Saladino allegedly hit a school bus and kept driving. It wasn't until he hit a bicycle and Range Rover that his black Mercedes was stopped on 73rd Street near 18th Avenue.
A sixty-three year old bicyclist was thrown onto the windshield of a parked car after being hit by Saladino. He lost his helmet and shoes and rolled from on top of the vehicle to the sidewalk. According to the NY Daily News, he was in cardiac arrest when he was transported to Maimonides Hospital.
Saladino is the owner of Continental Shoes, also on 18th Avenue. He had hit a school bus and was driving away when the bicycle accident happened. While he would have normally only been charged with hit and run, he will now face the consequences of the other two collisions as well. Continue reading →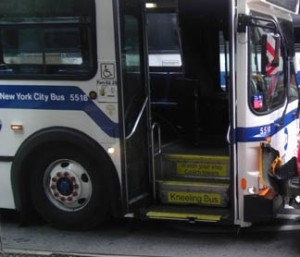 A city bus and a meals-on-wheels van made for a big mess when they collided in Brooklyn early this week. According to the Daily News, the van registered to the Jewish Association Servicing the Aging, ran a red light and hit a passenger car, forcing the bus to swerve and subsequently hit a building.
The accident happened on the corner of Avenue J and Ocean Ave. in Midwood just before 10 a.m. Monday morning. The bus was eastbound on Avenue J when it was forced to swerve to miss the van and collided with an apartment building. The van ended up on its side in the middle of the intersection.
Fortunately, no pedestrians were struck at the intersection and no residents of the apartment building were injured.
Twelve people, from the multiple vehicles, were transported to Kings County Hospital, Maimonides Hospital and Lutheran Medical Center with minor injuries according to police at the scene. Continue reading →

In a recent criminal trial, a 60-year-old Megabus driver was acquitted of criminally negligent homicide charges stemming from a 2010 New York bus accident that resulted in the deaths of four passengers.
Though he is not being held criminally responsible for these wrongful deaths, family members of the deceased victims have already filed civil lawsuits against the bus company, the bus driver and others who may have contributed to the fatal bus accident. Those lawsuits were delayed pending the outcome of the criminal trial. Continue reading →

New York City is among one of the dangerous places for pedestrians. Needless to say, many drivers on New York streets are in a rush to get where they are going. Operators of mass transit vehicles are no different. Either from a lack of attentiveness, or because of the tediousness of driving the same pattern for long stretches of time, they can end up mindlessly ignoring pedestrians who are crossing the streets in crosswalks. When this happens it is most likely that the pedestrian will suffer serious personal injuries, some of which are fatal.
Two New Yorkers were struck down by New York City buses this week within a 24-hour period. The first victim was a 22-year-old who was killed by a Q44 bus while crossing a very dangerous intersection in Flushing. This accident happened shortly after eight in the morning. Continue reading →

The mother of a teenage boy who was struck and killed by a school bus can breathe a little easier now that she has settled a wrongful death lawsuit she brought against the largest bus company in the nation. That lawsuit was reportedly settled for $5 million.
The bus accident occurred in November of 2010. The 23-year-old school bus driver reportedly did not take necessary safety precautions, including inspecting the bus before driving. The school bus's windows were covered with frost and she had little to no visibility from the inside of the bus to see her surroundings, making the situation very dangerous. Continue reading →