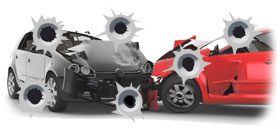 A blog post on Streets Blog indicates that New York City officials are focusing too much on gun violence, when auto accidents cause many more deaths and injuries each year. The columnist, Brad Aaron, suggests that officials should rethink their approach in keeping New Yorkers alive, focusing on preventable accidents instead.
The post was spurred by an announcement of 16 people being indicted in illegal gun trafficking. A statement from the city remarked that there had been 127 shootings in Manhattan this year thus far. Nineteen of which resulted in fatalities.
But, counters Aaron, last year 26 pedestrians and cyclists were killed in the city and more than 2,500 were injured. With a higher fatality rate, he says, the city should be focusing here to make NYC a safer place for everyone.
Through August of this year, someone died in New York City traffic about every 30 hours, on average, and an injury occurred every 14 seconds. There is no concerted effort between city prosecutors and NYPD to get those numbers down, or to ensure that victims get justice. To the contrary, few crashes are even investigated. Continue reading →