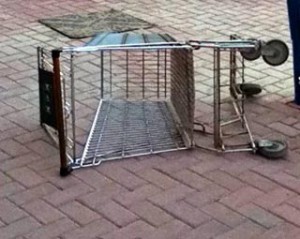 Two men were seriously injured in a department store accident when a shopping cart fell on their heads Monday. The men were walking outside a Bronx Home Depot, located near Yankee Stadium, when the cart fell from an overhead parking deck, similar to the case that left a mother brain damaged just a few months ago.
According to the Daily News, the men were about 50 feet from the front door of Home Depot when the Toys 'R' Us cart came crashing down on them. Witnesses say one man was immediately knocked unconscious and the other was trying to get up when help arrived on the scene of the department store accident.
Both experienced serious head injuries and the scene was reportedly quite bloody. One onlooker said you could see the skull of one of the men through the deep gash in his head. Both were taken to the hospital and though one was admitted in critical condition, both are now listed as stable.
No one knows why the cart tumbled and no arrests have been made.
In a previous department store accident case, a mother of two was hit in the head by a shopping cart outside of a Harlem Target store. Similarly, the cart fell 40 feet from a parking deck and initially left her in a medically induced coma. Now out of the coma, her husband says she has a long recovery process ahead.
In that case, two young boys were arrested and later pleaded guilty to felony assault.
Though it has not been substantiated, the men in this latest accident may have been working at the time. At least one source says that they frequently make deliveries to the stores in that shopping area. If that is the case, there could be a worker's compensation claim. If not, and it can be proven that someone was negligent in maintaining the shopping area, there could be a premises liability case.
In a premises liability case, it must be shown that the injuries were caused as a result of the company's negligence. Perhaps it's Toys 'R' Us who was negligent in collecting the cart, making an unsafe condition. Or, maybe Home Depot was not cautious in the design of their store, ensuring there was a safe walkway for customers to enter without fear of injury or fear of a department store accident. There are many possibilities here, where the error of a large company could have contributed to the tragic department store accident that befell these men.
If you are injured in a department store, supermarket, shopping center, or any other business, you too could be entitled to compensation and justice. The department store accident attorneys with Omrani & Taub are experienced in handling department store accident cases. We understand what you're going through and are here to help. Contact us for a free consultation.

The company responsible for maintaining escalators at Giants Stadium settled with eight injured people last week over an escalator accident that occurred about four years ago. Schindler is only one defendant in the case involving serious injuries that occurred when an escalator sped up and quickly stopped, ultimately causing some serious injuries. The other defendant, the New Jersey Sports and Exposition Authority who operated the stadium at the time, has not settled and their case will continue.
On December 29, 2007, Giants Stadium hosted a game between the Giants and the New England Patriots. It was after the game, as people were leaving, that the escalator accident occurred.
Witnesses said the escalator sped up and stopped, causing people to "tumble" towards the bottom. One man, Michael Harris, whose leg was caught in the bottom of the escalator, underwent five surgeries and three years of treatment before he ultimately had his leg amputated below the knee. Joseph Capuano has had more than twelve surgeries and could still lose his foot.
The settlement came after a break in the trial, following opening statements with a retelling of the escalator accident. According to the Associated Press, the account was graphic and included photos of the injuries.
Often, when a defendant in a civil case realizes they will lose at trial, a settlement becomes more alluring. This may have been what happened in this case after the moving opening statements.
The amount of the settlement was not disclosed.
Schindler was accused of failing to maintain the escalators in a safe manner, from replacing a mechanical part to making regular inspections. The Sports Authority is charged with failing to limit the number of people allowed on the escalators at any one time.
The Sports Authority says it did not ignore warnings about overloading the escalator and said that other escalators were carrying the same numbers of people, and none of them malfunctioned.
The trial against the Sports Authority continues.
The plaintiffs in this case, or the people who were injured, merely want to be compensated for their injuries-including medical costs and the trauma associated with them. But it's obvious, four years after the accident, that cases like these can take a long time to resolve.
When you are at a public sporting event, you take it for granted that you will be safe. When something catastrophic happens, it can catch everyone off guard. If you have been hurt in an escalator accident call us today for a free consultation. The experienced New York Escalator Accident Lawyers at Omrani & Taub, P.C. can make sure you compensated for your losses and injuries as well as pain and suffering.