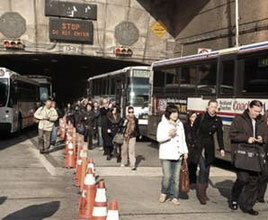 The Lincoln Tunnel was closed for several hours Monday morning after two buses collided, sending several passengers to area hospitals. According to the Pocono Record, a Martz Trailways bus rear-ended a New Jersey Transit bus near the tunnel entrance.
The crash happened at about 7:15 am and the tunnel was not reopened until about 10:30, seriously delaying some commuters. Fortunately, the sustained injuries in the bus accident were not life-threatening.
Both buses had to be towed from the scene. The Martz bus had originated in Tobyhanna at 5:15 and stopped in Mount Pocono to pick up more passengers before the accident. The NJ Transit bus was a Route 168 bus from Paramus to the Port Authority station in NYC. That bus had 45 passengers on board, while the number aboard the Martz bus was unknown.
Two passengers were seriously injured and three were taken out of the buses, strapped to backboards. Continue reading →