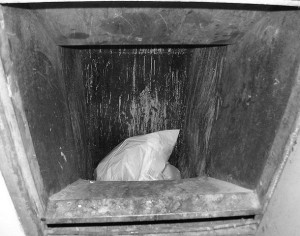 Thirty-year old Margaret Baumer nearly lost her arm when she fell head-first into her apartment building's garbage chute over the past weekend. According to the NY Daily News, she was trapped in the chute for close to an hour before emergency responders were able to free her. It isn't clear how she fell or if there were safeguards in place to prevent the accident.
The accident happened in the wee hours of the morning on West 21st Street in Chelsea. Emergency workers reportedly arrived on the scene at about 5:50 a.m.
The woman had fallen head-first into the chute and was trapped by the hydraulic-powered compactor. She was stuck for "at least" 45 minutes, according to officials.
"It was being crushed" said an FDNY source about Baumer's arm. "She was in a world of pain."
A neighbor remarked that she heard the woman's friends discussing how to get her out before help arrived. Said neighbor didn't offer to help because the situation didn't sound serious and she believed it was "just drunk people." Investigators are looking into whether alcohol may have played a role in the accident. Continue reading →

A 31-year old man who had only been living in the city nine months was killed last week when he fell in front of a Sanitation truck. According to the NY Daily News, the accident happened because business owners in the area have been putting their trash on the sidewalk, creating a fall hazard and causing the man to trip.
Andrew Schoonover was out with his sister that night and had been watching the game at a bar earlier. The two parted ways and Schoonover ended up in Manhattan. It was about 1:20 a.m. when emergency workers were called to E. 84th St. on a report that a man had been hit.
The accident happened in front of a popular pizzeria, Two Boots. The business has been cited for leaving a sidewalk obstruction. While the manager of Two Boots had no comment for reporters, it was made known that construction in the area had forced businesses to leave their garbage on the sidewalk rather than directly in front of their property. Continue reading →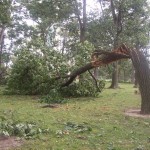 The trees in Central Park and around the city are beautiful—they add a bit of nature to an otherwise cold, concrete world. But the trees are responsible for numerous accidents and even a few deaths over the past several years. The N.Y. Times reports the city is unable to keep up on tree maintenance, making them far more susceptible to breakage and tragedy.
In the past ten years, the city has paid millions in damages to residents who were injured or killed by falling branches. The risks are increased now, as the city struggles to afford the recommended maintenance and inspections necessary for trees of their age.
Currently, park employees are required to inspect trees every two weeks, looking for risk factors that may indicate a sick or dying tree. But, as the Times reports, employees aren't always trained on how to identify these risk factors, and may miss signs that a branch is about to fall. Continue reading →

A 12-year old boy was killed this week in Brownsville when he and others were playing on the electronic, roll-up gate that secures the apartment complex they live in. Some are questioning why the gate continued to rise despite him hanging on, saying it should have detected the extra weight.
According to NBC New York, the kids frequently played on the gate, despite some residents telling them to stop. But with nothing else to play on, according to those who live there, the kids continued to ride the gate up and down as it operated.
The 12-year old Brooklyn boy was doing just that when he became trapped. He was riding the gate and became scared to jump down as it got higher, according to one child-witness. As it reached the top, he became pinned in the frame. Continue reading →

In baseball, as in life, one wrong move can change the game. A slip-and-fall accident, a bus accident, or any other premises liability incident can leave one incapacitated and unable to fulfill their obligations. This could result in missed work, lost wages, and mounting medical bills.
For New York Yankees pitcher David Robertson, a recent fall down a flight of stairs at his home will keep him from the pitcher's mound for an undetermined amount of time. Robertson was carrying two empty boxes to the recycling bin when he fell down the stairs, resulting in a mid-foot sprain. This simple misstep will keep him off the field until a full recovery has been made. Foot injuries are difficult for anyone, but for a pitcher they are particularly serious because they have the potential to alter a throwing motion, which could cause arm and shoulder damage.
Although Robertson's injury took place at home, many common injuries happen while people are walking in grocery stores, restaurants and malls. People often feel responsible for their own injuries, but it's important to remember that property managers and employees have a responsibility to address potential hazards that could result in accidents for those walking through.
Most of us mere mortals don't have the pressure of performing for the New York Yankees weighing on us, but we also may not have the kind of resources, medical care, and support that Robertson has as the Yankees team physician and others work to get him back on the field. That's why it's so important to recognize that even a "simple" accident may warrant a lawsuit.
Receiving compensation for injuries may be necessary to cover lost wages due to missed work, and to receiving the necessary medical care for a full recovery. You may not be needed on the pitcher's mound, but chances are you're a valuable player who is needed in some area of the game of life.
Source: New York Post, "Clumsy accident offers little relief for New York Yankees," Kevin Kernan, March 9, 2012

Transel Elevator, Inc., the company responsible for maintaining the elevators in the Manhattan office building where a young advertising executive was killed last December, has fired five of its elevator mechanics in connection with the accident. Transel announced the dismissals only two days after New York City investigators reported their finding that a crucial safety system (which could have prevented the elevator accident) had been disabled.
Our attorneys have closely followed this story since it occurred (see previous posts created in January and February) and are not surprised by these latest developments. Employers often fire employees after a serious or fatal accident for various reasons, sometimes justifiably and sometimes not. What Transel's decision to fire these mechanics will not do, however, is relieve the company of legal responsibility for employee actions occurring within the scope of employment. Continue reading →

If someone is injured on another person's property, the property owner may be held responsible for premises liability. A wide variety of injuries can result from a property owner's negligence, including injuries from an animal attack.
One example of such an injury occurred when a 58-year-old woman was attacked by her friend's "pet" chimpanzee. The 200-pound wild animal lived in a residential home. The woman says she was always concerned that the animal would attack an innocent victim, but she never thought it would be herself. Continue reading →

Sometimes, it takes a serious accident that could expose property owners to the reality of premises liability before they realize the potential dangers posed on their property.
Last month a billboard fell onto the Brooklyn-Queens Expressway and into traffic lanes. The billboard was a giant Mega Millions Lottery sign. The day it flew onto the elevated portion of the BQE there were 40 m.p.h. winds. Continue reading →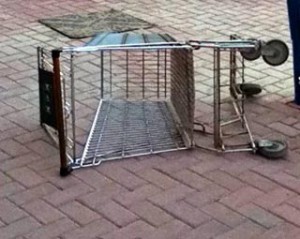 Two men were seriously injured in a department store accident when a shopping cart fell on their heads Monday. The men were walking outside a Bronx Home Depot, located near Yankee Stadium, when the cart fell from an overhead parking deck, similar to the case that left a mother brain damaged just a few months ago.
According to the Daily News, the men were about 50 feet from the front door of Home Depot when the Toys 'R' Us cart came crashing down on them. Witnesses say one man was immediately knocked unconscious and the other was trying to get up when help arrived on the scene of the department store accident.
Both experienced serious head injuries and the scene was reportedly quite bloody. One onlooker said you could see the skull of one of the men through the deep gash in his head. Both were taken to the hospital and though one was admitted in critical condition, both are now listed as stable.
No one knows why the cart tumbled and no arrests have been made.
In a previous department store accident case, a mother of two was hit in the head by a shopping cart outside of a Harlem Target store. Similarly, the cart fell 40 feet from a parking deck and initially left her in a medically induced coma. Now out of the coma, her husband says she has a long recovery process ahead.
In that case, two young boys were arrested and later pleaded guilty to felony assault.
Though it has not been substantiated, the men in this latest accident may have been working at the time. At least one source says that they frequently make deliveries to the stores in that shopping area. If that is the case, there could be a worker's compensation claim. If not, and it can be proven that someone was negligent in maintaining the shopping area, there could be a premises liability case.
In a premises liability case, it must be shown that the injuries were caused as a result of the company's negligence. Perhaps it's Toys 'R' Us who was negligent in collecting the cart, making an unsafe condition. Or, maybe Home Depot was not cautious in the design of their store, ensuring there was a safe walkway for customers to enter without fear of injury or fear of a department store accident. There are many possibilities here, where the error of a large company could have contributed to the tragic department store accident that befell these men.
If you are injured in a department store, supermarket, shopping center, or any other business, you too could be entitled to compensation and justice. The department store accident attorneys with Omrani & Taub are experienced in handling department store accident cases. We understand what you're going through and are here to help. Contact us for a free consultation.

The attorneys at Omrani & Taub have been following and posting updates on a case regarding a young advertising executive who was killed when trapped by the elevator at her Manhattan office building. Transel Elevator, Inc., the company who was servicing that same elevator only hours before her death, was named in an unrelated lawsuit this week, regarding yet another elevator accident, this time at the New York's Plaza hotel.
According to Bloomberg, a housekeeper at the hotel was injured in an elevator accident when the freight elevator she was on came to a sudden stop. The unexpected and "violent" stop is being blamed for fractures in one of the housekeeper's feet. Transel Elevator, Inc. is said to have been responsible for maintenance and upkeep of the elevator and all of those at the Plaza.
This latest suit is said to mark one of many that have been filed against the company for elevator accidents around the city. The company works in construction, maintenance and repair of both commercial and residential elevators. Continue reading →

A criminal investigation has been launched by the Manhattan District Attorney in the tragic elevator death of an advertising executive at Y&R. Suzanne Hart was killed when the elevator at Y&R's Madison Avenue headquarters crushed her between the first and second floors on December 14.
Initial reports said there were no "safety issues" when the elevator was last inspected in June, 2011. But Tony Sclafani, a spokesperson for the Department of Buildings, said that there were many violations issued in the past but all were for "administrative or non-hazardous conditions." In the aftermath, 11 violations were written against the building's 13 elevators.
According to the New York Post, the only violation written against the elevator that killed Ms. Hart, was one regarding problems with paperwork. Other, "more serious" issues were found on the 25-story building's other elevators. Continue reading →

Parents in New York and across the country are naturally concerned with safety issues that relate to their school children. It is always terrible when a school child is injured or dies during some school activity. Great shock and disbelief were the first reactions by students, teachers and parents in East Hartford, Connecticut, to recent news of a student drowning in their high school pool.
Legal responsibility issues for cases like this student drowning are addressed under laws of premises liability. When a child is in an environment where parents assume they are safe, such as a school, parents rightly expect that all reasonable precautions have been taken at that facility to assure child safety. The death of a young person is tragic and unexpected, and grief over that tragedy can affect an entire community. Continue reading →