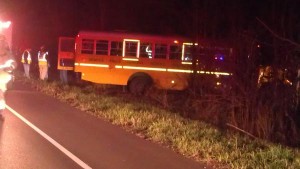 Thousands of people put their kids on school buses every morning, trusting that their children will arrive at school safely and be carried home again unharmed. But school bus accidents seem relatively common, and often end tragically.
Just this past week, a school bus in Montezuma upstate, was involved in a crash with two cars. Two people died as a result.
According to News Channel 9 (local ABC News channel), the bus and another car were traveling south on State Road 90 when a car traveling in the opposite direction crossed the center line. That car hit the driver's side of the bus and struck the other car head on.
One person from each car was killed. Two people were airlifted to Upstate University Hospital and one student was taken to Geneva Hospital with minor injuries. Continue reading →

Five children and two adults were injured early this week when a cab struck a school bus in the Briarwood neighborhood of Queens. According to MyFoxNY.com, the bus was carrying special needs children between the ages of 8 and 10.
All of the children were transported to Long Island Jewish Medical Center. The matron, also aboard the bus, and the cab driver were both taken to Jamaica Hospital. Their conditions are unknown.
Witnesses say that many of the children were highly distraught, as to be expected after an accident. Many parents arrived to offer comfort before the children were transported.
The matron appeared to have suffered the greatest injuries.
It isn't clear what caused the accident or if any charges will be filed. The police are still investigating. Continue reading →